NewsNgày: 11-12-2018
Canada will be potential market for Vietnamese export garments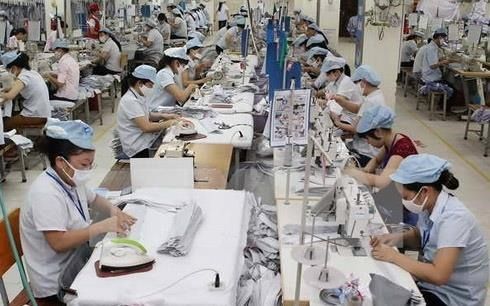 The Canadian market will be a potential market for Việt Nam's export garment products after CPTPP effective next year. — Photo bnews.vn
Viet Nam News
HÀ NỘI — Canada will be a potential market for Việt Nam's export garment products when the Comprehensive Partnership and Trans-Pacific Partnership (CPTPP) takes effect in early 2019, according to Lê Tiến Trường, general director of Việt Nam National Textile and Garment Group (Vinatex).
Trường said although the CPTPP does not include the US - which accounts for nearly half of Việt Nam's annual garment export value, it has other great potential markets such as Australia, New Zealand, Chile and Canada
Canada imports textiles and garments worth of US$13.3 billion per year. However, Việt Nam's textile and garment export value to Canada has reached only about $550 million a year, he said.
Meanwhile, Việt Nam the CPTPP is Việt Nam's first free trade deal including Canada.
To seize this opportunity to access the Canadian market, Vinatex has sought Canadian garment enterprises and provided them information about Vietnamese export textile and garment products.
Specifically, Vinatex sent a delegation of local textile and garment companies to Canada to look for opportunities with textile and garment importers in this market, including Hà Nội Textile and Garment Joint Stock Corporation (Hanosimex), Hòa Thọ Textile and Garment Joint Stock Corporation, Đức Giang Corporation and Phong Phú Corporation.
In Canada, the firms introduced their potential and strong points to potential partners.
Phong Phú's representative said the corporation learned about the demand for textile and garment products of this market via direct contacts with Canadian customers. Next, it will set up production plans to achieve its goals in Canada.
Meanwhile, Hanosimex introduced its production meeting yarn rules of origin for two products. It has met 12 companies and introduced to them 40 kinds of cotton towel and knitwear.
Hanosimex has looked for more input material suppliers in Việt Nam or other member countries of the CPTPP to diversify commodities and build a flexible production model to meet demand from contracts of large volume with medium quality to contracts of small volume with high quality products.
Besides of trade promotion activities held by Vinatex, Hòa Thọ Textile and Garment Joint Stock Corporation has connected with 14 customers to introduce 15 samples of trousers and suits made from Vietnamese, Thai and Indian materials. — VNS

Read more at http://vietnamnews.vn/economy/481649/canada-will-be-potential-market-for-vietnamese-export-garments.html#8tQ1TRWSwU6cCE1B.99